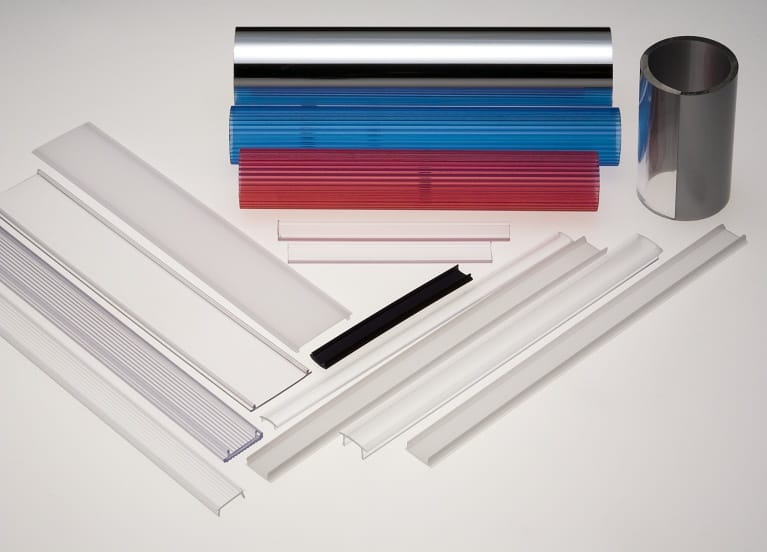 Plastic profiles for led and lighting: techno-polymers with high diffusing lighting efficiency
Mavis also extrudes plastic profiles for led and lighting. These profiles for led and lighting are manufactured with high quality materials like PMMA (methacrylate) and PC (polycarbonate).
These techno-polymers combined with particular extrusion processes, allow to obtain screens with various effects: transparent, opalescent, glossy, diffusing, etc.
Plastic profiles for led and lighting manufactured with this method, transmit and diffuse the light remarkably whilst covering the single light point without dispersing the brightness and assuring excellent lighting efficiency.
We utilize these techno-polymers to extrude lighting profiles like led strips, neon covers, ceiling lights, screen, diffusers, etc.
Mavis has also made a series of lighting profiles dedicated to the furnishing industry. The need to illuminate inside closets, underneath kitchen cupboards and various furniture components, has enabled us to create special profiles mounted inside closets, below the shelves, and in various custom solutions made in co-design with our customers.
The following is a partial list of profiles that we manufacture with the extrusion process:
Led ceiling lights
Led bars
Led profiles
Led strip profiles
Led beneath cupboards
Cable profiles
Electrical channels
Cable trunking profiles
Pvc channels
Transparent pcv tube
Transparent bars
Led diffusors
Furniture strips
Transparent channels
Transparent led channels
Sign profiles
Led covers
Led cover profiles
Led plastic profiles
Shelving leds
Lighted sign profiles
Lighting profiles
Transparent, opalescent and glossy screens
Plastic profiles for led and lighting : Advantages
easy assembly
UV resistant
High impact strength
High degree light transmission
Excellent diffusing
Custom products
Custom transparent, opalescent, glossy, and matte finishings
Self-extinguishing materials