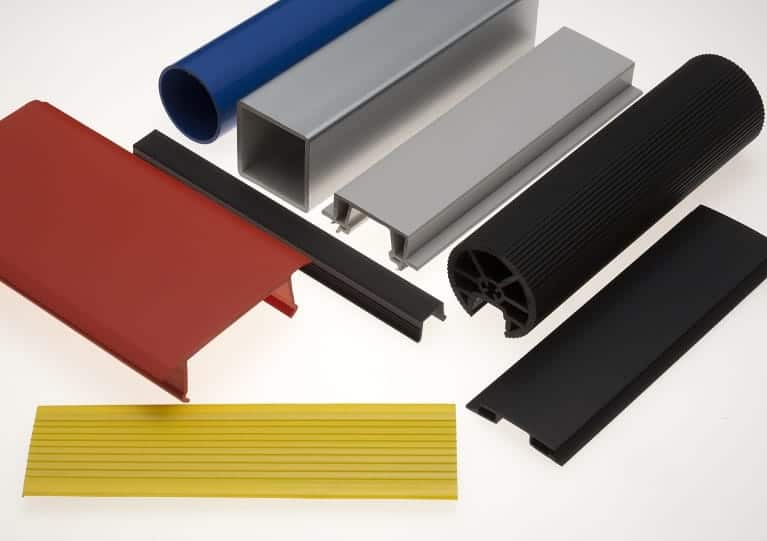 PVC extrusion profiles can be designed and manufactured in rigid and flexible materials, or coextruded, a single profile having a rigid and a flexible section.
PVC extrusion profiles are in fact the most utilized products in the plastic market segment. PVC extrusion profiles are obtained by the extrusion process of polyvinyl chloride.
PVC is one of the most versatile materials, as it comes in different types of physical, mechanical, and chemical properties. It is available in rigid (PVC) and flexible (PVC) with different hardness degrees. It is relatively easy to process, and it can also be coextruded (joined rigid and flexible sections). It is available in virtually all color, glossy or matte, as well as transparent.
For PVC extrusion profiles that require a low density, there is also available a type of foam PVC that makes products extremely light in weight.
PVC properties: good mechanical and UV resistance, durable, self-extinguishing; Medical version available; Recyclable.
The following, is a partial list of PVC products made by the extrusion process:
PVC pipe
PVC tubes
PVC fences
Square PVC pipe
Flexible pvc pipe
PVC gaskets
Rolling shutters
PVC edge banding
PVC cable channels
PVC trunking profiles
Skirting board
PVC window
Clear PVC tube
Trimming profile
PVC angles
PVC channels
PVC cover
Foam PVC panels
PVC sealing profiles
Coextruded PVC profiles
Technical profiles for industrial applications
Custom profiles