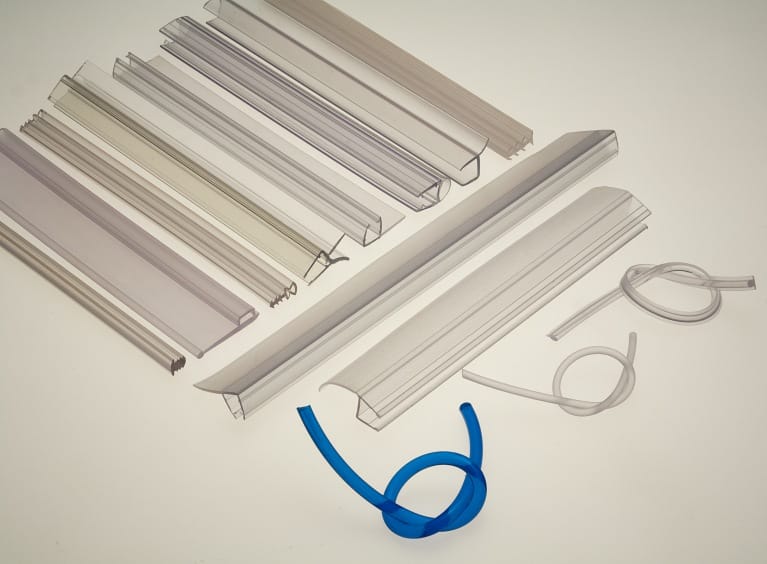 Plastic profiles for shower cabins – we engineer and manufacture gaskets for shower cabins, sealing profiles, and custom profiles for customer specific solutions.
In recent years plastic profiles for shower cabins underwent a significant innovative process in both, functional and aesthetic areas. Our new range of plastic profiles for shower cabins have been developed to meet new market trends. In particular, shower cabin profiles require a clear finishing having a low visual impact, and technical characteristics to facilitate assembly, as well as assure water tightness between the gasket , glass and alluminum.
To improve the functionality of the product, some of the plastic profiles for shower cabins can be made in coextrusion (rigid and flexible sections). The flexible section is formulated with a special embossed plastic material for a smoother surface and an excellent resistance to molds.
Plastic profiles for sanitary water: water tightness and durability
Plastic profiles and sealing gaskets for shower cabins, and hot tubs (spas) require an effective water tightness for a long period of time without yellowing or deteriorating. For this purpose, high quality profiles are extruded with particular rigid and flexible plastic materials formulated appositely to include a good compression set, and suitable UV protection.
The experience acquired in this market segment enables us to engineer in co-design with our customers custom products. As a result, in a relative short amount of time, we can manufacture an extremely functional profile perfectly integrated with the other elements of the project.
Follows a partial list of plastic profiles for shower cabins
Gaskets shower cabins
Drip profile
Rubber gaskets
Shower enclosure gaskets
Sealing gaskets
Glazing bead gaskets
Gaskets for sliding doors
Drip profile shower cabin
Door shower gaskets
PVC gaskets
Transparent gaskets
Gaskets for bath tub
Rubber profiles for shower cabins
Magnetic gaskets
Magnetic gaskets for shower cabins
Drip profiles
Glazing bead gaskets
Cover (casing) profiles
Adjustment profiles
Diverting drop profiles
Profiles for glass
Co-extruded profiles
Decorative profiles
Balloon gaskets
Diverting profile
Gaskets for sealing slits
Advantages of plastic profiles for shower cabins
Easy assembly
Water tight
Excellent transparency
UV resistant
Long lasting
Materials resistant to mold (sanitized)
Customized product
Customized finished: alluminum, translucent or frosted
Resistant to common detergents